Directions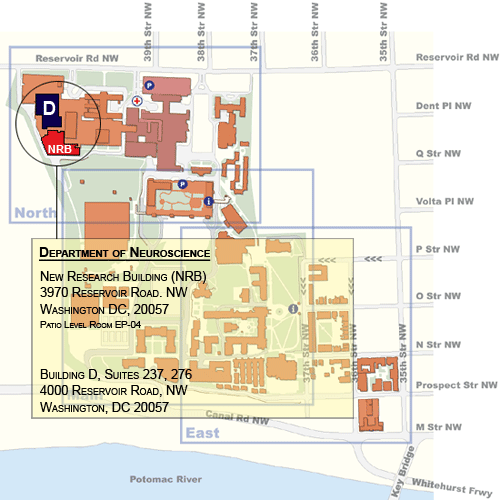 The Georgetown campus is easily accessible by public transportation from either of Washington's two airports or by train. The Department of Neuroscience is located in the New Research Building (campus map) and the main office is in room EP-04 on the first floor.
From the airports
Dulles Airport: Take the express Metrobus to Rosslyn, then take the Georgetown Shuttle (GUTS) to Georgetown University. For the GUTS schedule, see http://otm.georgetown.edu.
Reagan-National Airport: Take the Metro (blue line) to Rosslyn, then take the GUTS to Georgetown University.
By train
Trains arrive at Union Station. From Union Station, the D6 bus stops at Georgetown Hospital. Or, for a faster ride, taxis are available outside the station.
Within DC
For further info about travel to the campus and around Washington DC, see Plan your visit to Georgetown University.
And for further public transportation information in DC, see Washington Metropolitan Area Transit Authority.